Christmas Giveaway: For the Love of Reading Prize Pack! ($300 Value)
On the 6th day of Christmas, OVM gave to you… an opportunity to win a
For the Love of Reading Prize Pack!
In this prize pack, you have the opportunity to win great prizes from Kobo, Today's Parent Magazine, Alive Magazine, MrsJanuary.com, the Ottawa 67s, and a copy of Smitten in the Kitchen by Deb Perelman (Courtesy of RandomHouse Canada)!


The winner of this prize pack will receive a Kobo Vox - Where "The End" is never the end (valued at $200!)
With Kobo's Reading Life, you can interact with books in new and fantastic ways:
Access over nearly 3 million eBooks from any hotspot with built in Wi Fi.
Sync your Kobo account to any device with free Kobo apps.
Share your Reading Life with friends on Facebook and Twitter, and get social with your reading!
Borrow and return eBooks from your local library from home!
Visit Kobo.com to check out Kobo's 3 newest e-readers (The Mini, Arc and Glo), and don't forget to send a Kobo eGift Card to all the book lovers on your holiday list.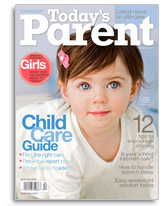 The winner of this prize pack will receive a 1-year subscription to Today's Parent! Today's Parent magazine is Canada's favourite source of parenting information. Together with our popular website todaysparent.com, we deliver real life stories, vibrant images, relevant content, fun activities and expert advice to a community of busy and active parents.
Celebrating your family, Today's Parent connects, engages and inspires their readers across multiple platforms. The publication is owned by Rogers Publishing Limited, a division of Rogers Media Inc., and includes Today's Parent special interest publications: Pregnancy, Newborn and Baby & Toddler.


The winner of this prize pack will also receive the current edition of Alive Magazine! For more than 37 years, alive magazine has been Canada's recognized leader in the field of health and wellness. Every month hundreds of thousands of people turn to the latest issue of alive to keep themselves up to date with current trends in natural health. People who want to take control over one of the most important contributors to a good life–their health–use alive as their indispensable resource.

The winner of this prize package will also receive a copy of MrsJanuary.com's eBook called Money in Your Pocket! MrsJanuary.com is a personal finance blog that provides consumers with Canadian coupons, deals and freebies. We are passionate about frugal living and inspiring others to live a more frugal lifestyle.
"I have written a new money-saving eBook called Money in Your Pocket (2nd Edition). It is designed for anyone who is trying to save money on their grocery bills. I teach my readers how to shop strategically, build a stockpile and avoid ever paying fill price for groceries again. I explain how it has never been easier than it is right now." - Cassie Howard, MrsJanuary.com
PLUS! 9 other people will be chosen to receive a copy of MrsJanuary.com's ebook and accompanying audio!


The winner of this package will also receive a copy of Brian Kilrea's Autobiography, 'They Call Me Killer"! Brian Kilrea of course is the former NHL player turned into Hockey Hall of Fame junior coach with the Ottawa 67′s. In his book he allows us a fascinating look at both of his careers.
His playing days are full of great stories, especially his minor league exile in Springfield with legendary coach Eddie Shore. Yet when NHL expansion finally gave Kilrea a chance to play in the big leagues, he would ask the Los Angeles Kings to send him back to Springfield.
He then goes on to talk about his lengthy coaching career – including his short stint as Al Arbour's assistant with the New York Islanders and his decision to turn down the head coaching job of the Toronto Maple Leafs. But of course most of the book revolves around his days with the 67s.

The winner of this package will also receive a copy of Deb Perelman's The Smitten Kitchen! Are you into shiny pages, hard covers and lay-flat binding? Did you ever wish you could read a zillion (ahem, 85 to 100) new smittenkitchen.com recipes in one sitting without waiting for your modem's hamster to load the page already? Was it unbearable to hold out until this fall? Well, wait no longer because it's here! It's here! THE SMITTEN KITCHEN COOKBOOK was released on October 30th and I couldn't be more excited (and nervous) to share it with all of you.
Deb Perelman is the kind of person you might innocently ask what the difference is between summer and winter squash and she'll go on for about twenty minutes before coming up for air to a cleared room and you soundly snoring. It's taken some time, but she's finally realized that there are people out there that might forgive her for such food, cooking and ingredient-obsessed blathering and possibly, even come back for more.

Here's how you can enter to win:
For Kobo, please and !
For Today's Parent, visit us at www.todaysparent.com, follow us on twitter and like us !
For Alive Magazine, like their page!
For Mrs. January, like her or !
Let them know on either Facebook or Twitter that Ottawa Valley Moms sent you!
Comment below and tell us why you would love this For The Love of Reading Prize Pack!
We'll be choosing a winner at the end of our giveaway period!